Research
Early studies included inventorying plants, brush control, and attempts at reseeding to improve forage conditions. Early livestock studies focused on supplemental feeding during drought, as well as practices to improve herd management.
Data Acknowledgment Policy
Individuals and institutions utilizing data from the Chihuahuan Desert Rangeland Research Center web site are requested to place the following acknowledgment in any publication in which these data are mentioned:
Data were provided from the Chihuahuan Desert Rangeland Research Center through the Department of Animal and Range Sciences. Funding for collecting these data was provided through grants and projects from New Mexico Agriculture Experiment Station and New Mexico State University.
Research Exclosures
Many areas of the ranch have been used for a variety of reasearch projects. The location of areas that have been excluded from large herbivores are shown with an information about the size of the exclosure and the date of establishment. Additionalinformation about the orginal purpose and current research within the exclosures is available from the CDRRC director.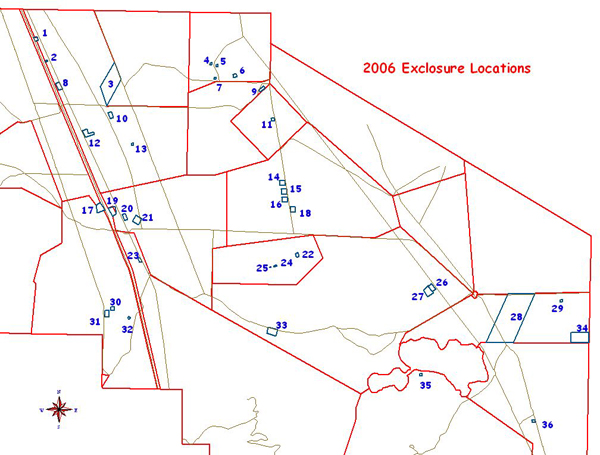 Click on image for larger view
Exclosure Table (PDF)